Many theaters across the nation, including Regal Theater, offer closed-captioning as Deaf movie-goers can now request special glasses that provide this accessibility. As one of the nation's select theaters, our local Regal Theater at Moraine Pointe in Butler now offers captioning 7 days a week! What's more, hard-of-hearing patrons can even boost the volume to suit their needs.

Movies and show times can be found at www.regmovies.com. Look for the symbol (shown below) that indicates that "listening devices" are available. You can learn more about closed captioning devices here. Also, find movie listings weekly in Friday's Butler Eagle Newspaper or daily at 724-282-0800(v).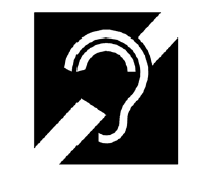 International Symbol of Access for Hearing Loss



Show your appreciation and help support our local theater by spreading the good news now that going to the movies is enjoyable for all! For updates, add your name to the mailing list.

We look forward to hearing from you.